ALARM RESPONSE SERVICE
An alarm response is a service whereby a company responds on your behalf once an alarm has been activated at your premises. Once an alarm has been triggered, it's absolutely critical for a trained patrol officer to respond immediately and look to limit the damage done. QRS Security has a rapid response team dedicated to providing instantaneous response to any alarm activation. We can create a custom tailor-made security solution designed for your specific needs.
In many cases, responding to an alarm immediately is of critical importance, as the longer it takes for a security company to respond, the less likely it is for any criminals to be apprehended. We take all of our security assignments very seriously and always aim to respond to every situation as quickly as possible. Our teams have been specifically trained to be dynamic and professional, and we can ensure an instantaneous response to any alarm activation on your premises.
Our dedicated local professionals have extensive knowledge of the north east and our rapid response teams can respond swiftly to any scenario that they come across. Our alarm response teams typically respond within a few minutes to any alarm activations as we have teams throughout the region, including Newcastle, Sunderland, Durham and Northumberland. Before undertaking any project, we provide you with a detailed analysis of what we offer as well as the expected time it would take for our Alarm Response team to respond to an alarm activation. Alarm response has become an integral part of the security arrangements for many businesses and along with Key Holding and Manned Guarding, it is one of the most important security provisions that you can undertake in order to protect your business.
We have built up a strong reputation as a trustworthy and professional security company and we undertake each assignment with a great deal of passion and commitment. The alarm response services we offer gives business owners peace of mind, and allows them to rest easy knowing that they are in the safe hands of a security company with a deep commitment to its clients.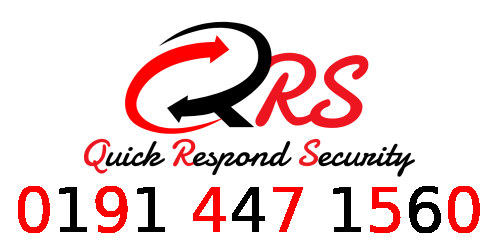 Our Security Industry Authority (SIA) security guards have been specially trained to deal with a wide range of alarm response situations in the most efficient and professional way possible, and we have over a decades' worth of experience in providing alarm response services throughout the North East. If needed, we will contact law enforcement agencies on your behalf. Our exceptionally trained staff will take the best course of action for your business depending on each individual context.
We will provide you with detailed reports after every alarm response situation, and we will make sure that we investigate fully until we find the reason for the alarm being initiated in the first place. For quick and professional responses to any alarm response scenarios in the North East, you will not find a better security company than QRS due to our commitment to professionalism and our extensive local network.
For more information on our alarm response services, get in touch today and we'll be delighted to explain in more detail.